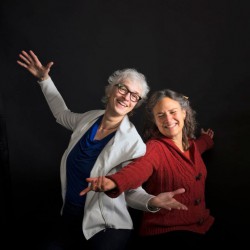 Embodying Your Voice, Voicing Your Body
Rediscover playfulness and spontaneity in movement and sound
May 10, 2014 – May 16, 2014
with Laura Stone and Veronika Simonett
in the South of France* 
*Shambhala Retreat Center Dechen Chöling
Mas Marvent, Yrieix sous Aixe, near Limoges
Everyone is welcome.
No experience or connection to Shambhala is necessary!
We will explore individual and contact exercises from T'ai Chi and other body-mind disciplines.
Playing with conscious, gentle movement encourages relaxation and synchronization of body and mind. The exercises are simple for beginners and subtle for those with more movement experience and body awareness.
We will practice sitting and walking meditation as ways to ground and relax with what is.
Sensing and observing what is present in yourself and your surroundings as well as experiencing the silence in between is a way to wake up innate curiosity and to touch basic goodness. Walking meditation will be outside in the richness of the natural surroundings of Dechen Choling.
With conscious movement and meditation as the foundation, we will then play with connecting to music, exploring breathing and sounding.
Listening to vocalizing from different cultures and sensing what it does with us will be the ground of touching the breath and our own unique qualities of sound expression. Creative exercises (inspired by various voice and breathing methods) combined with felt-sense experiencing of how we make sound will deepen the process.
Listening with all our senses will provide the framework.
This retreat is for everyone interested, beginners and experienced alike. The interplay of participants and presenters will nourish the flowering of embodying your voice and voicing your body.
Taught in English with translation into Dutch, German and French.
location and sign up: Dechen Chöling
Shambhala Retreat Center near Limoges, France