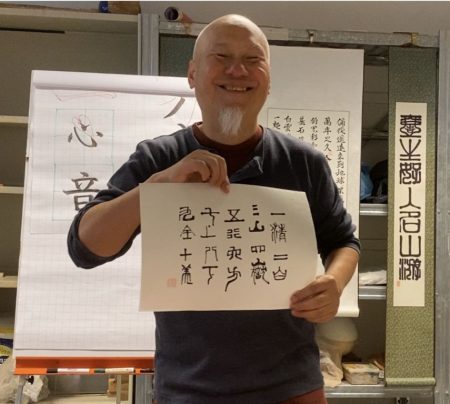 WORKSHOP
28 & 29 January 2023
Kunstcircuit Deventer
Practical info and registration
Online class Wednesdays
open to those who have taken a workshop with Master Wang
Wang Ning is a master calligrapher and Chinese seal maker, T'ai Chi teacher, philosopher and an optimistic man. He makes a direct connection with the practice of T'ai Chi and guides students in a spacious, gentle way.
Experience the connection with the brush, the ink, the paper and movement. The art of Chinese calligraphy.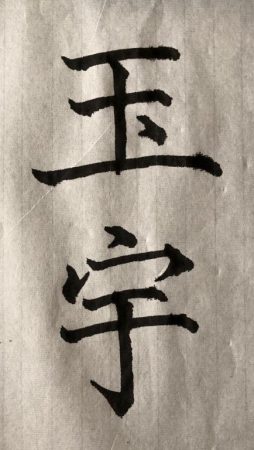 On 15 February we practiced the characters for Jade House meaning universe.
Go to Philosophical Friday for more info, a film of Master Wang writing with his new poem to accompany the brush strokes.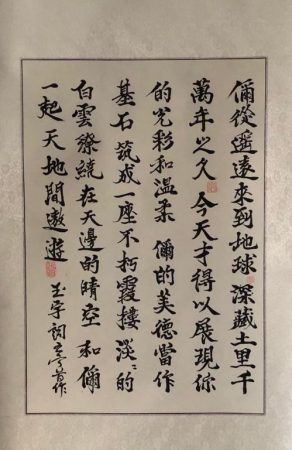 Master Wang is an enthusiastic teacher with a lot of humor, passion and playfulness. At the same time he brings the ink on the paper in a relaxed and focused way, uniting stillness with movement. Just like the unbroken flow of energy in T'ai Chi.
Making Chinese calligraphy is meditation in motion. From the beginning one learns how to put the energetic quality and form of the Chinese characters on paper with a subtle feeling for the materials and connection to the movements.
The workshop starts with an explanation of how the Chinese language as imagery originated and became more and more abstract. The participants will learn to make their own ink and how important it is to do this.
Master Wang will give each participant a personal calligraphy, for example of his or her name. A precious memory of this art and our time together.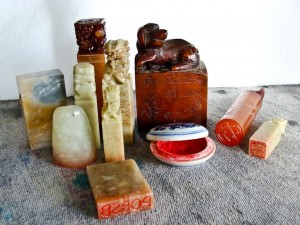 Master Wang lives with his family in Frankfurt since the Chinese student revolts of 1989. He is at the Frankfurter Buchmesse and numerous other international (Tai Chi) events every year.
Teaching will be in English and German
Practical info and registration
Please note: the registration form is in Dutch. If you need translation, please contact us.