Summertime…and the livin' is easy ?
Slowing down, relaxing, enjoying. Necessary during this summer heat wave and perfect in this vacation time. 
Wouldn't you like to join us (also online) for one of these activities?

Pop-up T'ai Chi this Saturday 15 August, 10:30 am
Worp plantsoen, meet at the gazebo
Form and Sword Form with Laura Stone
Everyone is welcome (drop by). Also online (contact us to receive the Jitsi link).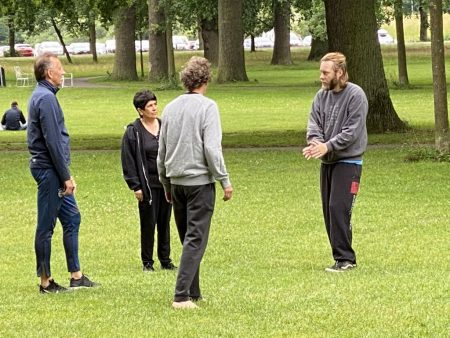 Live online interview this Sunday, 16 August at 7 pm CET
Treasures of Knowledge, Song relaxation with Laura Stone, Hella Ebel and Birte Timmsen
Explanations and demonstrations on YouTube in English
More info

Sitting T'ai Chi online – next week on Monday 17/8 or Friday 21/8 – to be announced 
Discover the relaxation, grounding and the integrated movement of  T'ai Chi from your chair. 
Everyone is welcome to join and to experience this alternative way to practice  T'ai Chi.
With Laura Stone in English.
Contact us to receive the Jitsi link.