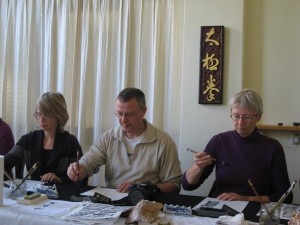 Welcome for one or more parts of this weekend.
No experience necessary for the introductory evening or the Saturday morning program. New participants are also welcome for the whole weekend.
Friday 18 March 2022 – Introductory Evening
19.30 – 21 uur
An explanation with demonstrations of the Chinese characters including their development into modern day writing. A fascinating and enjoyable presentation by Master Wang Ning, Chinese seal maker and calligrapher. Welcome! Please register to assure your place (limited room).
Saturday and Sunday
19 and 20 March
10 – 17 hours with lunch break
Introduction Chinese characters, calligraphy practice and connecting with the qualities of the movements of T'ai Chi.
Practice under the guidance of Master Wang

Location
Kunstcircuit Deventer
Keizerstraat 70
From the Deventer train station: a 5 minute walk.
Fees
€ 15 for the introductory evening
€ 55 for Saturday (10-13 hours)
€ 110 for Saturday
€ 195 for Saturday and Sunday
class fees are exclusive calligraphy materials and including soup with lunch (bring your own sandwich)
calligraphy materials: € 30 for brush, ink stick and ink stone. (pay cash at the workshop please).
Master Wang will give each participant a personal calligraphy, for example of his or her name.
A Chinese Seal (Chop) may be ordered.
maximum 12 participants per day
Registration (Inschrijven)
Register with the form below (in Dutch – please contact us if you need translation)
Priority to participants registering for the entire workshop (until 1 March)
Your registration is complete when the workshop fees are received in this account: IBAN: NL59 TRIO 0320 2089 74 (BIC: TRIONL2U) in the name of Welstone. Please note Master Wang Ning with your payment. .
NOTE: This is our new bank account. The old ING account is closed.