14 – 16 August 2021
9.30 – 10.45 hours class for all levels
11 – 11.30 hours the whole form 2 times and sword form
Welcome!
Every day for three days you have the chance to experience the graceful T'ai Chi movements in the fresh morning air.
This is a perfect chance to warm-up for the new T'ai Chi class season or just to experience this meditative practice. For beginners, this is a way to get a taste of the flow of the T'ai Chi movements. For experienced players, this is a way to deepen their practice.
Everyone of all levels of experience is welcome.
Photo album 2019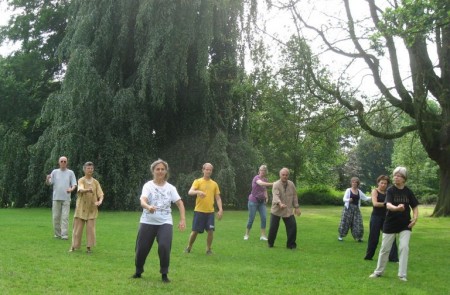 Daily Schedule
Saturday through Monday
14/8 – 16/8 
9:30 – 9.45 a.m. Warm-ups
9:45 – 10:45 a.m. Form (first section)
10.45 am  Tea
11 – 11.30 am the entire form 2 times
sword form 2 times (no instruction)
Participants are welcome to join the classes at any time.
Sunday 15/8 – Long Form Workshop cancelled
an introduction to the original series of 128 movements
We hope to offer this again in the coming year. Stay tuned!
Program and more info (in Dutch)
Please contact us if you want translation.
Location
The Worp Park (Plantsoen)
Meet at the Music Pavillion (muziek koepel)
Who can join
Beginners can get acquainted with the first 20 movements of the form. Experienced players have the chance to refine their movements.
Investment
€ 25 for all 3 mornings 9.30 – 10.45 uur
€ 10 per day
11.00 – 11.30 am free (no instruction)
Please register in advance below. You are also welcome to just drop in.