1 – 3 September 2018
9.30 – 10.45 hours class for all levels
11 – 11.30 hours  the whole form 3 times 
Welcome!
Every day for three days you have the chance to experience the graceful T'ai Chi movements in the fresh morning air.
This is a perfect chance to warm-up for the new T'ai Chi class season or just to experience this meditative practice.  For beginners, this is a way to get a taste of the flow of the T'ai Chi movements. For experienced players, this is a way to deepen their practice.
New this year is Qigong with Sandra van der Molen to begin our practice.
Everyone of all levels of experience is welcome.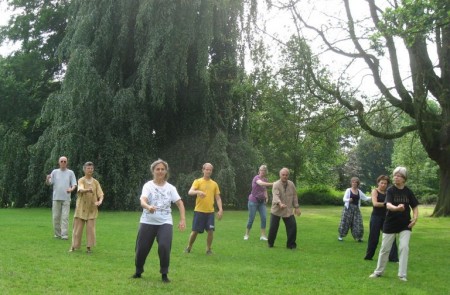 Daily Schedule
Saturday 1/9
through Monday 3/9  
9:30 – 9.45 a.m. Qigong with Sandra
9:45 – 10:45 a.m. Form (first section) 
10.45 am  Tea
11 – 11.30 am the entire form 3 times (no instruction)
Participants are welcome to join the classes at any time.
Location
The Worp Park (Plantsoen)
Meet at the Music Pavillion (muziek koepel)
Who can join
Beginners can get acquainted with the first 20 movements of the form. Experienced players have the chance to refine their movements. 
Investment
€ 25 for all 3 mornings 9.30 – 10.45 uur
€ 10 per day
11.00 – 11.30 am free (no instruction)
Please register in advance below. You are also welcome to just drop in.