Summertime
Dear reader,
Are you enjoying these summer days?  Like doing T'ai Chi in the park, taking it easy…or feeling more spacious and energetic with so many hours of light?
Here in Deventer we are looking forward to Grandmaster William C. C. Chen being with us.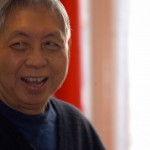 GRANDMASTER WILLIAM C. C. CHEN
Friday 11 – Monday 14 September 2015
form  •  form applications  •  push hands  •  long form  •  swoord form and applications 
There are classes for all levels at this workshop.  After a relaxed start with Long Form, Master Chen will continue warming us up with the first section of form and  demonstrations and explanations of his new insights in the body mechanics. Then we go from there!  This time he wanted to teach all aspects of his T'ai Chi.  So take a look at the schedule and see what fits for you.

The early bird discount has been extended till 1 August
If you are planning to attend and haven't registered yet, we have good news for you:  The early bird discount has been extended an extra two weeks till Saturday 1 August.
More info  •  schedule and registration  
Organizers Roland van Sante and Laura Stone hope to see you and train with you at Master Chen's workshop in Deventer.
Questions?
Please contact Roland per email or telephone (0031-38-4225153).
Read the latest! Nils Klug of T'ai Chi Studio Hannover just posted photos and a new article (in German) about Master Chen's June workshop in Hannover. Read the latest here. See photos here
WORKSHOPS IN THE STUDIO
2015- 2016
29.8 – 2.9 Summer week in the park
T'ai Chi boxing for women   •  Soft Contact Push Hands   •  Introduction to Boxing  •  Voice expression and T'ai Chi  •  Ergo-Taiji for Professionals
English descriptions will be posted soon.