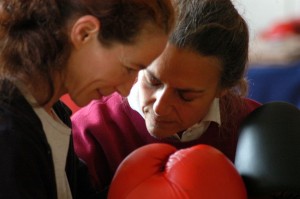 with Laura Stone
sunday 29.11   2015
saturday 6.2  •  sunday 24.4   2016
10.30 – 16.00 
What is T'ai Chi boxing? 
T'ai Chi boxing is T'ai Chi in action.
All of the principles of slow, grounded and relaxed movement are applied to
developing effortless punches
moving quickly and efficiently while remaining relaxed 
being open and awake under pressure 
Everything done with exquisite consciousness and knowledge of what you are doing. No holding back. 
This needs training. Training that is safe and enjoyable to be able to truly practice together.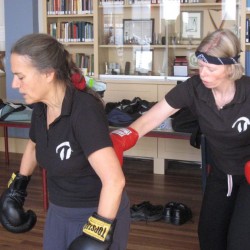 What will we be training?
basic stepping and punching 
heavy bag training in order to experience your intrinsic strength and power. 
interactive games to develop control spelletjes om het beheersen van je kracht te ontwikkelen
incasseringsoefeningen om het effect van je kracht in interactie met een ander te ervaren (optioneel)
alles stap voor stap 
Wat gaan we op mentaal- en gevoelsniveau oefenen?

luisteren naar je lichaam
bewust worden van automatische reacties en de ruimte te hebben voor keuzes
ontspannen blijven onder stress zodat je steeds kan luisteren en waarnemen wat van binnen en buiten aan de gang is
je eigen ruimte beheersen, bepalen en innemen
je echte grenzen leren kennen en daardoor kunnen verruimen 
in jezelf geaard blijven terwijl je verbinding maakt met de ander
je angst leren kennen
je kracht zonder agressie ervaren 
Waarom een dag voor vrouwen?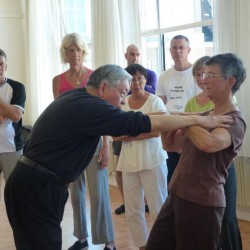 Zelf ben ik mijn T'ai Chi Meester William C. C. Chen zeer dankbaar voor hoe hij met al zijn studenten traint. Mannen, vrouwen; T'ai Chi vorm of T'ai Chi boksen. Hij leert iedereen met respect en gelijk waarde. Dat wekt de kracht en potentie van iedere student op.
Toch is het ervaren van je eigen kracht als vrouw in de wereld vaak een gevoelig onderwerp. Geweld, fysiek en mentaal; het gevoel van overmacht/onmacht, man-vrouw- en cultuurgebonden patronen kunnen in de weg staan.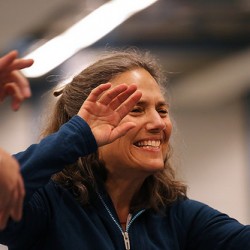 Mijn wens is dat we als vrouwen onder elkaar de eerste stappen van deze ontdekkingstocht van T'ai Chi boksen in een relaxte, open sfeer kunnen maken. Dat zegt niet dat we geen uitdagingen gaan ervaren, maar alleen dat deze in een veilige en speelse setting opgevangen mogen worden. 
Misschien na deze dag (of in plaats daarvan) wil je T'ai Chi boksen trainen in een groep van mannen en vrouwen. Roland van Sante en ik bieden regelmatig de introductie dag T'ai Chi Boksen aan. De volgende trainingsdagen zijn zondag 01.11.15; 31.01.16; 20.03.16 
Voor wie
Deze workshop is open voor alle vrouwen, met of zonder T'ai Chi achtergrond.
Praktisch
10.30 – 16.00 uur
in The Studio, T. G. Gibsonstraat 33
uiterlijk 5 dagen van tevoren aanmelden

Investering
1 dag € 55  •  2 dagen € 100  •  3 dagen € 140
*The Studio is aangesloten bij Stichting RechtOp;
deelnemers van RechtOp ontvangen 50% korting op alle cursussen en workshops met Laura Stone.
Voor minder draagkrachtigen is een aanpassing van de prijs mogelijk.
Neem contact op.