T'ai Chi Boxing 2020-21
Sundays in Deventer

Because of the Corona lockdown rules, the first workshop in 2021 will be held as a one hour training online per Zoom.
We hope to be able to train as a group again on 7 February!
Stay healthy and safe.

10/1, 7/2, 14/3, 11/4 

T'ai Chi boxing in The Studio is a practical way to apply Grandmaster William C. C. Chen's body mechanics on a physical, emotional, mental and spiritual level. Conscious training with a partner, with respect and cooperation, is a tangible way to enhance personal development and advance your T'ai Chi training program. 
Experience T'ai Chi in an active, challenging and at the same time enjoyable way.
New this year are creative contact exercises with the use of a staff. We will continue to train punching and stepping technique with the help of pads, heavy bag and, when safe, conscious contact to body and head with 16 oz. boxing gloves. 
Take a look at some of our photo albums to get an impression.
8 maart 2020
7 maart 2020
1 oktober 2017
17 September 2016
5 November 2016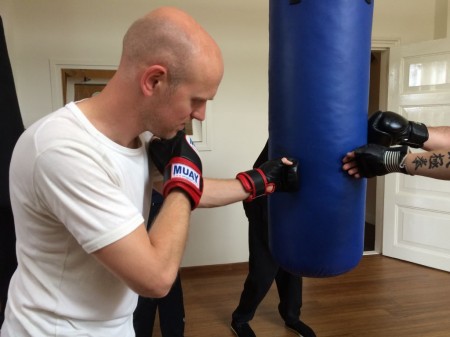 Training

basic punching technique
relaxed, quick movement
individual and interactive practice
Who can join?
Everyone is welcome for the introduction workshops. If you don't have T'ai Chi experience, please contact Laura Stone to discuss the possibility of joining.  
Practical info
 Laura Stone and Sabine Weihrauch are the teachers.
 more info in Dutch
Questions? Please feel free to contact us.